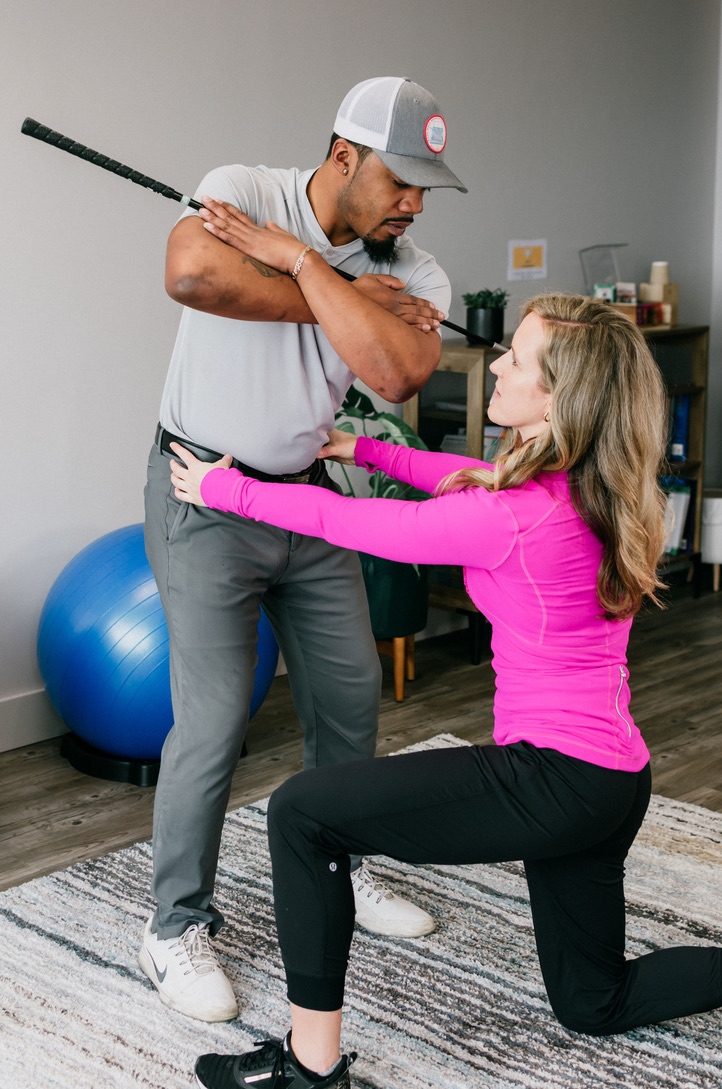 Trying to hone your golf game for the upcoming season? Struggling on the course and not sure why? Not sure sitting at your desk job is the best preparation for hitting the driving range after work? Hoping to prevent injury as you play golf for many years to come? Time to sign up for a TPI Golf Evaluation.
What is a TPI Golf Evaluation?
We all know the level of precision and skill required to swing a golf club effectively. Even seemingly small things can make a big difference, for better or for worse, on the course. And although golf is a sport that can be played throughout the lifespan, it is an incredibly dynamic movement that requires a lot of mobility, explosive power and coordination.
The Titleist Performance Institute has developed this evaluation specifically designed to help golfers prevent and/or heal injury. This evaluation examines how the human body functions in relation to the golf swing. Rather than analyzing your swing itself (we'll leave that job to your golf pro!), we look at the components of your body and what they need to do in order to swing the club effectively, accurately, and without pain. 
In the evaluation, your therapist will first ask about your orthopedic and general health history, as well as your concerns and goals on the golf course. Next, your therapist will take you through a series of 16 movements that examine your mobility, stability and control in each area of the body. As you go through these movements, we will help you understand what your body should be able to do, and how close you are to being able to achieve it. Depending on our findings, we will review the areas that need the most attention and prescribe individualized exercises to address these areas. 
After the evaluation, your therapist will compile your results into a report for you, along with your initial home exercise program, to give you the tools to continue working on your results at home. We will recommend a plan of care based on the assessment to make sure you know exactly how we will get you to achieve your goals on the golf course. If needed, we will recommend follow up PT treatment sessions where we can use manual therapy, dry needling, Redcord neuromuscular re-training and targeted exercise to improve the way your body moves in your swing.
How is this different from what I do with my golf pro?
A golf pro typically works with you on specific improper swing characteristics and may use video swing analysis to unpack these details. In our TPI evaluation, we look at the body characteristics and movement patterns needed for each component of your swing. Many golf pros are also trained in the TPI philosophy, so we are each working toward your swing success, but from two different angles. You will be most successful with a team of professionals, each with their own expertise, who can contribute their knowledge to making you the best golfer you can be. We are excited to be a part of this team!
Who can benefit from a TPI Evaluation?
Nearly every golfer can benefit from a TPI evaluation. Whether you are hoping to avoid injury, rehab an injury, or just hone your swing, this evaluation provides valuable information. Golfers of all levels can benefit from this evaluation for various reasons. Consider reaching out to schedule your TPI evaluation if you are a:
Young golfer hoping to develop good habits early on

High level golfer hoping to increase your precision and consistency

Golfer recovering from an injury

Golfer with a history of shoulder, knee or hip pain hoping to prevent re-injury

Golfer who periodically tweaks your back during a round of golf

Golfer looking to hit farther and more accurately Free 15-minute phone consultation
Not sure if Thrive Physio has what you need? Schedule a 15-minute free phone consultation to discuss! If we aren't the best fit, we will help get you where you need to go.
Concierge Physical Therapy Services
Prefer to be treated in the comfort of your own home? On a film set and don't have the flexibility to leave for your appointments? I can come to you! I have experience working with people in the entertainment industry and understand the need for flexibility given your busy schedules. I work with 2UMedical to provide concierge physical therapy services at the location most convenient for you.
Common diagnoses treated:
*This is not an exhaustive list of diagnoses we treat at Thrive Physio. It is a list of common diagnoses we see and frequently treat. If you do not see your diagnosis on this list, please contact us to discuss your diagnosis and available treatment options.
Low back pain
Sprains and strains

Disc injuries

Sciatica
Neck pain and headaches
Sprains and strains

Whiplash

Disc injuries

Cervicogenic headaches
TMJ dysfunction and jaw pain
Sprains and strains

Whiplash

Disc injuries

Cervicogenic headaches
Shoulder pain
Rotator cuff dysfunction

Impingement

Frozen shoulder

Instability
Elbow pain
Tennis elbow

Golfer's elbow

Nerve entrapments
Hip pain
Impingement

Bursitis

Tendonitis/tendinopathy

Labral tears

Arthritis
Knee pain
ACL reconstruction and injury prevention

Patellofemoral pain syndrome

Runner's knee

IT band syndrome

Meniscus tears

Arthritis
Foot and ankle pain
Ankle sprains

Plantar fasciitis

Big toe dysfunction
Dry needling
Insertion of a solid filament needle into dysfunctional muscles to release them, reset them to decrease tightness and improve coordination- Want more information? Read Elizabeth's blog "What is Dry Needling?"
Redcord suspension training
A system of bungees and cords used to help identify neuromuscular imbalances and improve muscle coordination and balance
Soft tissue mobilization
Manually working on muscles, tendons, ligaments and fascia to reset the nervous system and decrease pain
Joint mobilization and manipulation
Address joint restriction with hands-on techniques to improve mobility, reset nervous system and decrease pain
Cupping
Glass cups are applied to the skin to lift skin and fascia away from underlying muscle tissue, improving blood and lymphatic flow for expedited healing and pain relief
Kinesiotaping
Application of light, stretchy tape to body regions to improve proprioception in the area, provide support and decrease swelling or bruising
Blood Flow Restriction training
Brief, intermittent occlusion of venous blood flow using a tourniquet while exercising. The patient can get the strength benefits of a higher load but actually using a lower load to avoid tissue strain- Want more information? Read Elizabeth's blog "Why Blood Flow Restriction training?"
Neuromuscular Re-education
Retraining muscle activation and movement patterns to help decrease overworking of muscles while improving the firing of underactive muscles to reset the balance and coordination of the body
Therapeutic exercise prescription
Individualized exercises to help maintain the gains achieved in a session- aimed at improving mobility, stability, muscle coordination, strength, endurance, power, balance, functional strength
Selective Functional Movement Assessment (SFMA)
A specific, systematic way of analyzing movement to see limitations and identify which body segment is contributing to these limitations
Ergonomic Assessment
Assessment of client at their work to determine contribution of desk or workstation to client's symptoms
Postural Assessment
Assessment of client's static and dynamic posture to determine contribution of posture habits to client's symptoms
Client education
Unpacking habits, work set up and ergonomics, current activities and exercise, sleep patterns, etc to determine their contribution to client's complaint and provide education on modifications to improve response to treatment and/or prevent recurrence
Elizabeth is awesome! I had lingering problems from a previous therapy experience elsewhere; Elizabeth listened carefully and questioned while assessing where to start with my program. Besides being very thorough and knowledgeable, Elizabeth is really fun to work with! I am so happy that I was referred to her!
As well, I recently started doing physical therapy sessions with Elizabeth Dalrymple for a lingering foot injury. She is thorough, extremely knowledgeable, and able to put together a therapy plan that is tailored to what I wanted in life: to be able to function daily. She listens to my concerns and goals, and I have been able to better verbalize my concerns through her therapeutic communication and listening, and confidence in my ability to improve. Elizabeth is FANTASTIC!
I cannot say enough good things about Dr. Elizabeth. I am a healthcare professional who works down the street from their facility and I sought out an initial appointment because of a chronic shoulder injury. Within two sessions with Dr. Elizabeth my shoulder was 90% better and she showed me how to maintain the correction at home. I have since referred several patients to her and all of them had great things to say about her, top notch!
After my double mastectomy, I went to Elizabeth for PT because I saw on the website one of her specialties was breast cancer recovery. I really appreciated how kind and sensitive she was to me in the first few appointments. She got me moving and back to live quickly. As a lifetime athlete she not only got me back to my favorite sports and living my life quickly but she also helped me with problems that have been nagging me for years. I loved working with Elizabeth and am so grateful to her for getting me moving again.